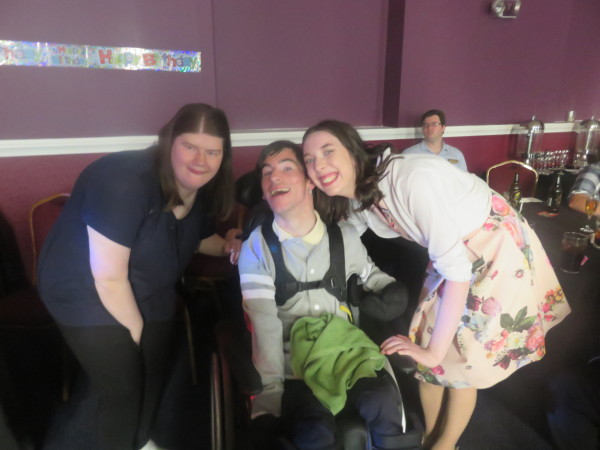 On Friday 23rd June, Dates-n-mates Aberdeen celebrated their 2nd year anniversary with a fun party for members, staff and friends of the project. The party was held at the Carmelite Hotel in the city centre from 6pm to 9pm and was attended by over 60 people. The venue was set with balloons, sweets, photo props and glow sticks on the tables and a giant number two balloon celebrating 2 fantastic years!
The night began with a drink on arrival and a buffet of stovies and macaroni which was very popular with many going for seconds! Following the food, our Director Sarah Paterson made a speech thanking everyone for attending and then we introduced our new 2nd Director Daniel Fields. Project Manager, Sheryl, who attended the event, presented Sarah with her 'Pride of C-Change' Rising Star award. She was delighted with this and all the staff and members acknowledged how well deserved this was for all her hard work over the last 2 years. Dates-n-mates Aberdeen staff then presented prizes to our members for their volunteering achievements with us.
After all the speeches and prize giving, the entertainment really began, with Member and Dates-n-mates Got Talent 2nd place finalist Tracy singing ABBA's 'I have a Dream'. She did a wonderful job with many other attendees commenting on how great her singing voice was. The night was then rounded off with the DJ playing some great songs and everyone having a dance.
We would like to thank everyone for attending and the Carmelite venue and Stephen our DJ for making the night a success.
Quotes:
"The party was great, I really enjoyed the dancing and the food. And meeting some new members who came." Dates-n-mates Aberdeen Member
"It was such a good night, I laughed so much!" Dates-n-mates Aberdeen Member
"Well done for Friday night's party.  It was a really enjoyable event and your members clearly had a ball." Dates-n-mates Glasgow Staff member
"The party was fantastic. It was great to have old and new members and supporters of the project join together to celebrate 2 successful years in Aberdeen. Tracy singing was lovely and I am so pleased for our Director Sarah getting her award. All round great evening!." Dates-n-mates Aberdeen Marketing & Events Coordinator