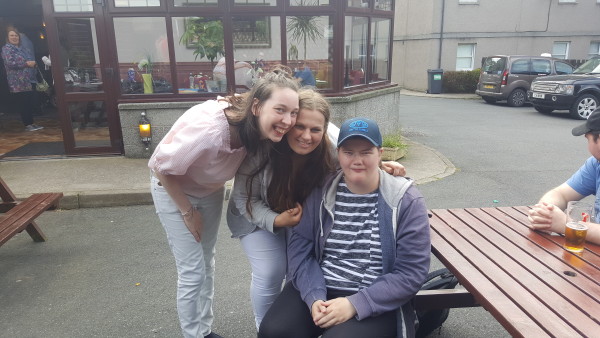 July Summary
July was a lovely month of summer events and some new events for us.
We have recently started holding regular events in Aberdeenshire – our first one was attending the Stonehaven Folk Festival in July. This was a fun event of live music in Stonehaven on a Saturday afternoon – members really enjoyed. We plan to hold more events in Aberdeenshire, with the next one being in Fraserburgh in September.
Dates-n-mates Aberdeen have also began holding LGBT events. We have linked with LGBT support organisation, Four Pillars, to ensure we have the best opportunities and events for all members. The first joint event with 4 Pillars was the LGBT Karaoke event at Café Bardot in July which was a fun night of singing with attendees from both organisations.
"What a successful event. Four Pillars members and the LGBT+ Community enjoyed meeting new exciting people from the Dates-n-mates. We heard some lovely voices and watched some great moves on the dance floor. Working with Piotr was pleasant and he was a great host at the event and kept everyone motivated and safe. Four Pillars are looking forward to many more joint events together." – Deejay Bullock from Four Pillars.
Other events we held in July included:
On the 29th of July, we held a Summer BBQ at the Inn at the Park Hotel. Luckily the rain stayed away for the event which was great, even if it was a little chilly at times. 35 people attended and really enjoyed the food on offer including burgers, hot dogs, vegetarian burgers, salad, relish and chips. It was great! We chatted, played a couple of games and one member even sang us a little song!
We held a dating event based on the popular TV programme Take Me Out. Members had the opportunity to be contestants and/or part of the panel the contestant chooses their date from. Everyone really enjoyed the night and there were some great matches made.
"Thank you for such a fun night, I enjoyed it and was happy with who I chose for my date." Dates-n-mates member
We will be holding a National Take Me Out style dating event on the 15th September for all dates-n-mate's members from Aberdeen, Glasgow and Renfrewshire to come to, at the Rox Hotel, Aberdeen. This is our first big national dating event and we can't wait!!
We also had a communications training event for members and a lunch at Shack (a buffet restaurant).
Great month and August has been great so far too.