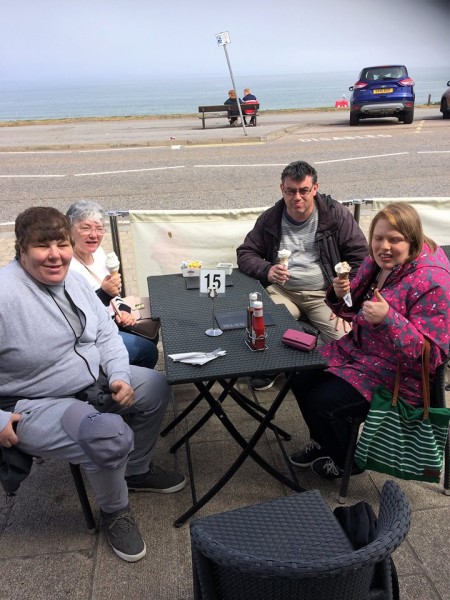 Wow, what a month June was! Apologies for the delay in this post, we have been so busy here at dates-n-mates Aberdeen!
Firstly, we would like to say how proud and happy we are that Dates-n-mates Scotland won two fantastic awards in June. What an achievement!
The awards won were:
The Scottish Charity Awards 2017 – "Pioneering Project"
Scottish Social Services Awards 2017 – "Courage to take a risk"
We held events including a beach walk and our coffee and cake committee meeting which was at the Muffin Break cafe. During the committee meeting we discussed members feedback and ideas which is always great to hear.
There were two trips to Glasgow this month… Firstly to attend the Dates-n-mates national "Got Talent" final show where one of our members won 2nd place! Well done Tracy! Secondly, staff attended the C-Change 15-year anniversary conference and celebrations. The 'Being Human' conference was all about self-directed support and human rights within social care for adults with learning disabilities. It was a very interesting conference with some great speakers. The anniversary celebration was a lovely evening celebrating some of the success of the charity, colleagues and people we work for. There was a 'Pride of C-Change' prize giving where our Project Coordinator, Piotr and our Director, Sarah, won well deserved awards. Well done to them both!
It was our 2nd year anniversary party this month too, held at the Carmelite Hotel. It was a great night, you can read more about it at this link: http://dates-n-mates.co.uk/aberdeen/2-year-anniversary-party/
In June, our new second Director, Daniel, started working with us. We would like to welcome him to the team. We will have more information on Daniel soon!
Dates-n-mates Aberdeen also linked with another organisation this month, called '4Pillars' which is a Grampian based LGBT+ health trust. We will be working with them in the future to hold LGBT events and LGBT dating opportunities. Our project coordinator attended one of 4Pillars 'Out and About' coffee meets and we will hold events with them soon.