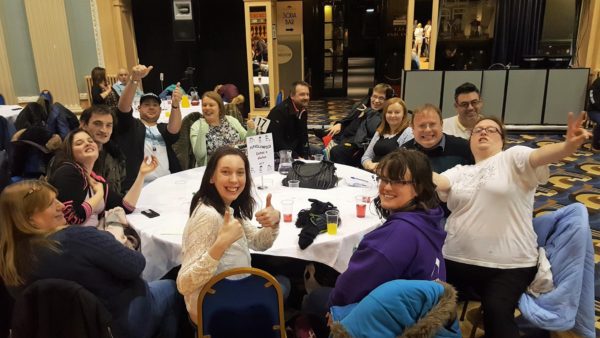 We have been so busy towards the end of the year that this November update is coming to you a little later than planned – our apologies!
So, what did we do in November?
We went to the Aberdeen Fireworks Display on Bonfire Night – the fireworks were fantastic, they were set to Disney music as well which added an extra element of fun to the evening! It was however, a VERY cold night so we were all wrapped up and slightly shivering while we watched them!
Dates-n-mates Aberdeen linked with Jenny Rae from the Aberdeen Health & Social Care Partnership to hold a coffee morning at the Arts Centre. At the coffee morning we discussed some opinions regarding the learning disability strategy of the city.
Next up, we went to Inverurie (Aberdeenshire) to their street market and for lunch. We then entered a team in to the Fun Olympics at Aberdeen Beach Ballroom – this is an event for people with disabilities in Aberdeen to take part in some sporty games. Our team really enjoyed this event, taking part in games involving passing the ball, basketball, hitting a target, obstacles and more. We were not the winning team but everyone who took part received a medal. We really enjoyed this!
In November, we also held a speed dating event at the Cotton Club. We have held speed dating events in the past however decided this time to do it a little differently… We had 3 different rounds which included a chatting round, a dancing round and a game to play with your potential dates. This was fun – we are planning more unique dating event ideas for 2018 so watch this space!
We also began our practices for our Christmas singing project – you will hear more about this in the December update.
With many fun events in November we were kept very busy however we kept everything ticking over in the office too! We even had a visit to the office from the RGU students who are organising a fundraising event for us. They met with us to get to know the project further and to film a couple of member interviews which they will use on their social media for promoting us. You can keep up to date with their event plans and promotional/fundraising activities on their social media: https://www.facebook.com/tastesotheshire/
Also in the office we celebrated our Marketing & Event Co-ordinator, Louise's birthday with a lovely cake homemade by our very own Director, Sarah! Fantastic job Sarah!
Thank you for reading about our November – please keep an eye out for the December update coming soon!