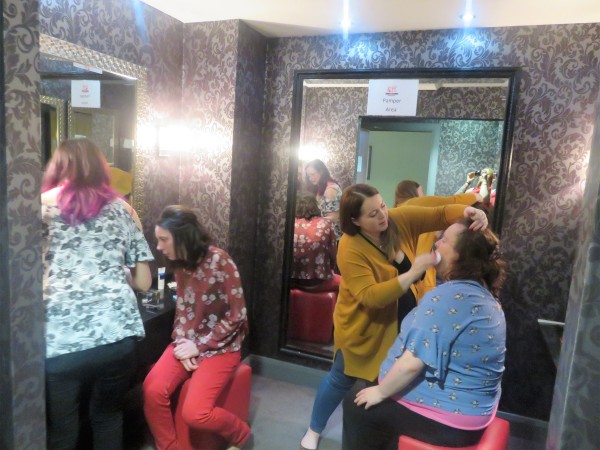 This month we had our 2nd Aberdeenshire event in Fraserburgh.
We attended their Super Saturday street market and went for lunch at Cheers Tavern, which was nice. It was great to go somewhere new that many members had not been to before challenging members to try different things and be more independent to go to new places. Our members who attended really liked our Fraserburgh trip and I'm sure we will go there again sometime.
September was also our first National dates-n-mates dating event, hosted by the Aberdeen team, with Glasgow and Renfrewshire members in attendance too. The event was based on the popular TV programme Take Me Out where there are contestants introducing themselves to a selection of potential dates. The potential dates had a light they put on if they were interested in going out with the contestant before one date was chosen and a match was made.
The event was held at the ROX hotel, in their grand ballroom, where 9 new date matches were formed.
The night began with a pamper session – make up and glitter for the ladies and aftershave for the men. The dating part of the evening included a round where contestants showed a video introducing themselves to their potential dates.
This was the first dating event of its kind in Aberdeen specifically for adults with learning disabilities. dates-n-mates are a unique project as we promote opportunities for people with learning disabilities to form friendships, socialize with others, experience dating and find love.
Everyone deserves to find love!
The event was attended by around 40 people, with 9 successful matches. Dates-n-mates will support those couples to arrange details if required – we have some organised already. The event ended with a fun disco.
The Glasgow and Renfrewshire dates-n-mates projects plan to hold their own Take me out events in the new year. Dates-n-mates hope that this will just be the beginning of more exciting dating opportunities for adults with learning disabilities.
What else did we get up to in September?
We attended a Play, a pie and a pint at the Lemon Tree to see a short theatre show.
We went for a carvery lunch and met with Jenny Rae from the Aberdeen Health and Social Care Partnership. Jenny and dates-n-mates gathered members views on issues affecting adults with learning disabilities in Aberdeen City. The views will be put forward when developing the new Learning Disability Strategy for the city.
We had a visit from funding representatives from the Big Lottery fund Scotland
We have also renewed some of our memberships, interviewed new members and everything else that goes on behind the scenes to keep dates-n-mates running smoothly.
Great month! See you in October for more dates-n-mates fun including our Halloween Party!