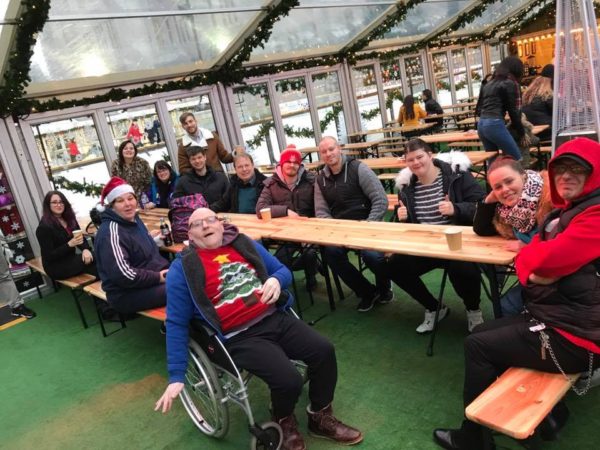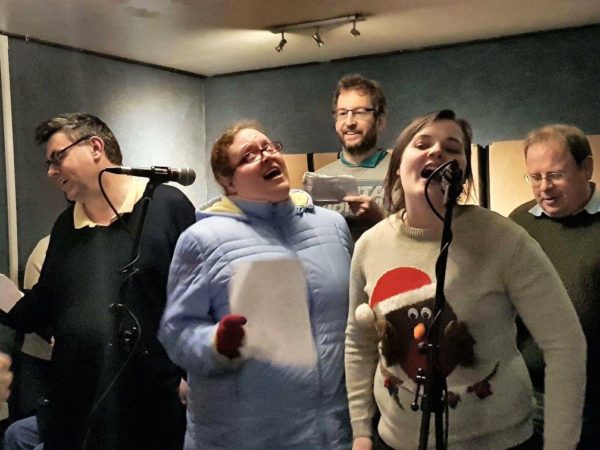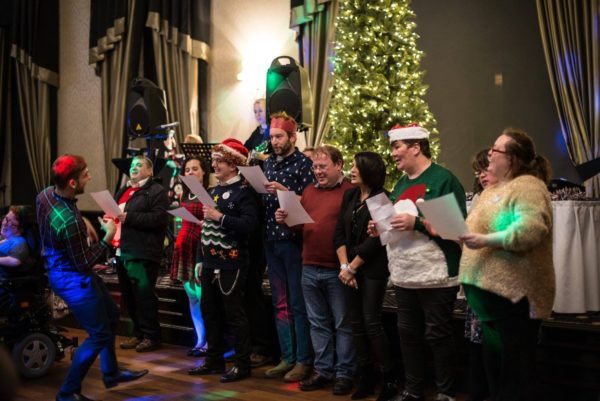 As we come to the end of 2017, lets have a look over what we did in December.
We started the month by visiting the Aberdeen Christmas Village where we had some hot chocolate and mulled wine, had a look around the stalls and some members went on some of the rides.
We also held a training event for members regarding our Champion Scheme which involves members getting points for volunteering with us.
In December, as it leads up to Christmas we had a few other events themed around the festive season. For example, we held a Christmas cookie and card making afternoon where members baked cookies and decorated them with festive designs. We then made homemade Christmas cards – some of the items were really lovely!!
We also of course had our Christmas Party, which was at the Rox Hotel this year.  What a beautiful venue this is – we had the ballroom which was set up with 2 twinkling Christmas trees, red and black chair covers and fancy red flower centrepieces. It looked fantastic! The night consisted of a 2-course festive finger-food buffet, live music, a raffle, a Christmas song performance by members and more. This year our party was attended by around 80 people and everyone was getting in to the festive spirit dancing and having fun. We also had a photo booth with one of our C-Change Support Advisors, Justyna, taking some fantastic photos of attendees. Thank you very much to her for this as her pictures look amazing! We would also like to thank the Rox Hotel and Maree Adams who provided live music entertainment.
Some of our members sang their version of Jingle Bells at the party with one member playing the drums. This performance followed on from our Christmas singing project we did this year. This mini project involved our Project Co-ordinator Peter leading some of our members in singing a Christmas song. We had practices in the office where Peter helped teach some singing techniques. We then recorded the song 'Jingle Bells' at local recording studio, Captain Toms, with a few members singing, one playing drums and one assisting with the recording equipment. We also had one of the C-Change personal development workers playing bass guitar. Members really enjoyed this new opportunity and it was so much fun. The song sounded great too! We made CD's of the song which were sold at the Christmas party (free copies given to those who took part).
This new activity also gained us an article in the Evening Express. We would like to thank Ana Da Silva for keeping in touch with us and sharing our story in the newspaper, it is great to get publicity like this.
Also in December we had a visit from our colleague, Magda from dates-n-mates Renfrewshire. She came to work with us on our dating strategy for next year – so we have some great plans to put in to action soon including a Salsa dancing night in January with Magda!
Today is our last day working before the Christmas break and we are ending the working day with a trip to the Christmas Panto with some of our members, at the Arts Centre.  We are looking forward to this – we have heard good reviews so far!
We would like to wish everyone a VERY merry Christmas and a happy new year! We can't wait to do more exciting things with dates-n-mates in 2018!