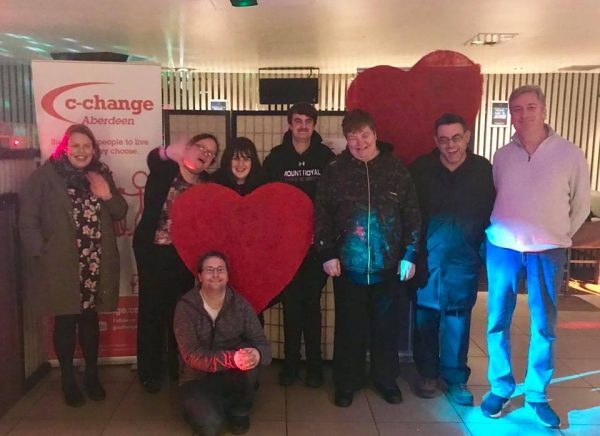 As we are now in to April, lets have a little look back on what dates-n-mates Aberdeen were doing throughout March 2018!
Our first event of March was our open Karaoke evening at Café Bardot where members and some of their friends and family came along to entertain everyone with their singing talent. We certainly had some great talent that night – you can find a short video on our Facebook page. On this night one of our members was kind enough to bring a cake along to celebrate 2 of our members birthdays – we sang happy birthday, and all enjoyed a slice of cake. Thank you to our member and volunteer Richard for providing the cake.
Staff, Peter and Louise attended the dates-n-mates Scotland national Take me out event in Glasgow on the 8th of March. They provided some assistance running the event including Peter hosting with dates-n-mates Renfrewshire Director, Graham. This was great to see one of the other dates-n-mates bases holding Take me out after we hosted this national event last September – great to meet some of the members from Glasgow and Renfrewshire too. They are all a lovely bunch down there!
Talking of dating events – we held a new one this month! After our success of basing events on Take me out we decided to give 'blind date' a try with Aberdeen members. We had a partition hiding member candidates from their potential dates similar to what you would see in the TV programme blind date. It went really well – it was fun to try something new and as always; some matches were made. We are considering trying this as a national event in the future so look out for details on that in upcoming months!
C-Change held their final Ladysbridge workshop in our office on the 22nd of March which a few of our members attended. We are really looking forward to seeing the final presentation of work gathered from this project.
Our Director, Sarah, held her directors surprise event with the assistance of other staff members Michelle and Louise. The surprise event this time was Easter themed cupcake baking in the C-Fine community kitchen. It's really handy to have the C-Fine kitchen next to our office – it's a great little space for cooking and baking events.
Lastly, we held our monthly pub night – on this occasion we went to a new pub we have not been to with members before – 6 degrees north however decided we needed food and the menu at this pub is very limited so we ended up going to the Shack for a buffet meal which was nice.
Other news this month: As many of you will know our Project Coordinator Peter is leaving dates-n-mates in April. We all wish him the very best of luck in the future! This month we confirmed who our new Coordinator will be – we look forward to welcoming her to the team towards the end of April and introducing her to members at upcoming events. We have 2 Coordinator drop in sessions on the 26th and 27th of April for members to say goodbye to Peter and they may also have the chance to say hello to the new Coordinator – invites have been sent out to members.
Our member Champion was announced – well done and thank you to Joan for all of her volunteering with dates-n-mates Aberdeen. Our Champion scheme is where members can earn points for volunteering with the project in a variety of ways from attending coffee & cake sessions giving us feedback, helping at events, promoting dates-n-mates, donating raffle prizes and more. We look forward to seeing who receives the most points this time next year!