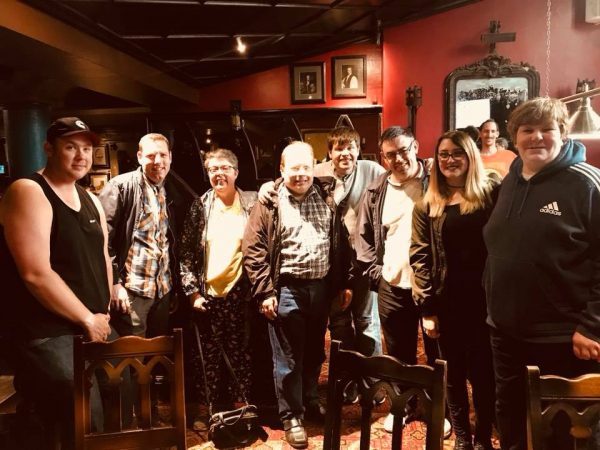 We have had a rather lovely sunny May, haven't we? Let's hope the sun stays a little longer in to the summer months ahead.
So, what have we been doing this month…?
Champion Scheme Information Session
We discussed our champion volunteering scheme with some members. This scheme is where members can earn points for volunteering with dates-n-mates. We discussed ways in which they could volunteer and how to do this effectively. Ideas included being a friendly face helping new or shy members, sharing their ideas for the project with us, helping with events, office work and promoting the project. The member with the most points at the end of this time next year is our Champion who wins 6 months free membership and a trophy! Members were looking forward to getting more involved with volunteering during upcoming events.
Learning Disability Week:
C-Change 'Being Human' Conference
Ladysbridge event
Learning disability strategy launch event
Dating Disco
Staff attended and helped at the registration desk for the C-Change Conference at the Rox Hotel with other local professionals in attendance. The conference discussed topics surrounding a human rights approach within social care for those with learning disabilities. There were some really interesting speeches on the day. Straight after this conference we had the final event for the Ladysbridge project which staff and some members attended.
Later in learning disability week we held a stall at the launch of the Aberdeen City Learning disability strategy launch. The event was held at Pittodrie Stadium and was very well attended by both professionals and people with learning disabilities from the Aberdeen area. We held a dates-n-mates information stall for the first half of the event before we rushed off to our own event later that night.
Our dating disco was a fun evening of dancing and interacting with others at one of our usual venues, The Cotton Club. We gave time for members to dance with each 'potential date' and then gave time for a free style disco. After this event there were a couple of requests to help set up dates as well as many members saying it was a fun evening so all in all a success!
A play, a pie and a pint
We decided to attend the afternoon matinee showing of A play, a pie and a pint this time and it was still as popular and busy as the evening ones! We could barely find seats! We enjoyed the show which featured 3 actors outlining the life of comedian Chic Murray… it was quite funny.
Grampian Pride
We were lucky enough to be one of the chosen stall holders for the event village during Grampian Pride 2018. We held a stall with our new leaflets and spread the word about what we do along with showing our support for the local LGBT community. We also met with a few members and attended the event with them. It was a fun colourful afternoon! We watched some of the entertainment and speeches on the outdoor stage while waving our rainbow flags and soaking up the lovely sunshine! We got photos at the free photo booth and interacted with people at our stall. We have already had 1 person contact us regarding joining dates-n-mates following chatting with us at the Pride event.
Pub night
Our monthly pub event in May linked with our Director's surprise event so our Director, Sarah, chose the pub on the evening for us to go to with members. She chose Slain's Pub where we had dinner – the meals were really good price so very handy!
Other news
As you will know Peter has now moved to Glasgow and Laurie has fully started as Project Co-ordinator with us now. She has been a great addition to the team and members are connecting with her well.
Our volunteer Sofie has now left us as she is moving to Finland to further her studies, so we said a big thank you and goodbye to her in May. She will be missed as she was a great help at events and in the office.